Food can be something of an issue in China. It's not that the food here is bad. On the contrary, there are a slue of dishes that I love, even if I can hardly say their names. But eating Chinese food every day can be wearying. It'd be like going out to eat Chinese food every day of the week in the States. I can't imagine anyone wanting to do that. When you live in China, though, that's basically what you're doing. That's why, just as I used to go to Chinese restaurants in America for a break from the domestic diet, I often go to restaurants that boast foreign food cuisine in China for a break from the domestic diet.
There is a pizza place in particular that has become a staple of my diet. I found it almost by accident, which, unless someone took you there, is the only way you could find it. It is located on a street that looks like any old street in Jinan. To the left of the restaurant is a karaoke bar and clothing store; to the right is an alley and a lady selling a variety of snacks and drinks out of her mobile store, which is little more than a wide, non-functioning refrigerator with wheels.
Most restaurants that boast foreign food in China are descript – that is, they are designed and marketed in such a way that you know they aren't your run of the mill, rice-and-whatever restaurant. KFC, for instance, which is huge here in China, always boast huge cutouts of Colonel Sanders smiling invitingly at would-be customers down on the street. McDonald's, also huge here, flaunts those golden arches at least as much as they do back home. And Pizza Hut – which price-wise is nothing less than fine dining in Jinan – has two locations here, each of which are encased by flashy walls of windows looking in, and table after table of affluent customers looking out.
Indeed, if a restaurant has foreign food on the menu, then a restaurant is something of a novelty (at least in Jinan). And if your restaurant is a novelty, then there is a good chance that you will let passersby know that your restaurant is a novelty by advertising, and advertising loudly.
But this restaurant doesn't do that. Nope, it's just slipped onto Any Street, with a nondescript green door acting as the gateway into an awesome (and reasonably priced) dining experience. They have pasta and French Fries and, above all, a variety of pizzas. All-veggie pizzas. All-meat pizzas. All-cheese pizza. And, my personal fave, The Hot One, which is decked with spices and peppers and all sorts of other goodness that you could expect from a legitimate pizzeria.
What makes this place all the more endearing is that the whole scene looks like a pizza joint from any college town in America. When you open the door, there is a 25-foot-long strip of the wood floor cutting down the middle of the narrow interior, leading to another door – this one with the top half cut out – that leads to the kitchen. On either side of that walkway are tables. The first six are tables with chairs; the ones closest to the kitchen are booths.
After my girlfriend and I eat our pizzas and play Scrabble for like two hours, she indulges me in a trip to a nearby basketball court. It's 9:45 and dark, but these particular courts, which we stumbled upon last week, house basketball well into the night.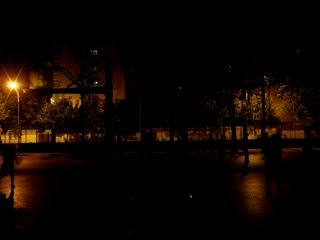 It's a bizarre scene, unlike anything I've seen in America. There are maybe 20 courts, each partially lit by varying levels of light radiating from the streetlamps on the adjacent street. The courts are situated on the edge of a university campus, and the players who are shooting around tonight reflect that demographic. Guys (and one girl) from the ages about 18-20 are beating balls into the ground across a swath of land that spans about three-fourths the area of a football field. There are so many players, and so many balls, that it sounds like the basketball camps held at my old high school, where a few hundreds kids would squeeze into the high school gym and frantically run drills with the omniscient thwack of the balls resonating throughout the fieldhouse. Of course, there is no field house here. But the acoustics are such – what with the sprawl of concrete – that it is a veritable echo chamber, like a series of loudspeakers surround the area and are pumping in nonstop thwacks.
Tonight I am just snooping around, opting not to play on account of the nine-inch pizza and three beers occupying my stomach. But I do survey the scene with intrigue. It is kind of eerie, the way everything looks and sounds. You can make out where the people are, but the light is so faint on some of the courts that people are merely silhouettes, the noise of the ball revealing as much as anything you can actually see. You can tell that shots are getting lofted rimward, but with no nets, the only way to decipher between a make and a miss is to listen for the metallic clank of the rim. If there is a thud, they missed. No thud equals a make. Or an airball.
Luckily there are some things more discernable than makes and misses. Like, say, the plethora of sports drinks lining the sidelines. Unlike myself, the kids playing ball tonight have opted against beer, and are instead imbibing in bottles of Gatorade, which are sold – along with ice cream, candy and cigarettes – at a kiosk near the entrance. Seeing these bottles of Gatorade is nothing new, for Gatorade has, like adidas and the aforementioned KFC, made a concerted push into the Chinese market.
And the success of this push – and it has indeed been successful – is no doubt linked to Gatorade's strategic marriage to basketball.
The ubiquity of Gatorade bottles now, in June of 2010, can be linked to a marketing move made back in March of 2007. It was back in '07 that Gatorade expanded its relationship with the NBA, which itself was increasing its popularity march around the globe, in an effort to tap into Asian markets, China in particular. From the Sports Business Journal:
[Gatorade], which has been an NBA sponsor since 1984, becomes the 17th company to partner with the NBA in China….
"The NBA is growing internationally, and it makes sense to do it together," said Gatorade's Jeff Urban, who officially assumes his new role with the company as its senior vice president of sports marketing on April 1.
Gatorade's expanded deal comes as the NBA targets aggressive growth in China leading up to the 2008 Beijing Olympics. The league is expected to play preseason games in China in October and is working to attract private investors to create a separate NBA China entity to further develop its international business.
Gatorade currently sells products in China but until now has never directly partnered with the NBA in those efforts.
The company is a sponsor of USA Basketball, which is marketed by the NBA. Last summer, Gatorade featured Miami Heat star Dwyane Wade on bottles of Gatorade sold in China when the men's USA Basketball team played two exhibition games in Guangzhou leading up to the FIBA World Championships in Japan.
"We had a relationship with Gatorade in Hong Kong five years ago, but this is the first time they have partnered with us in China," [an NBA official] said. "They were a major partner in USA Basketball and they had a ton of activation around the games in Guangzhou. That helped make their decision easy as they looked to do more with us in China."
Gatorade also will activate on the grassroots level with the NBA in China by partnering with the league in the NBA's Jam Van touring promotion that begins this month with visits to 24 cities in that country.
And from the Sports Business Daily:
Gatorade has expanded its NBA marketing partnership to include China for the first time as part of a multi-year renewal….

Gatorade, the official sports drink of the NBA, WNBA and NBA D-League, is also continuing to work with the NBA on a weekly basketball reality show called "NBA Zhi Zao" ("Made in the NBA"), which airs on 43 channels in China…
The move appears to have paid dividends. Not only is Gatorade the drink of choice the courts tonight, but also over at Shandong Normal, where Wang, the Refreshment Man, peddles Gatorade side-by-side with his water. And along with cigarettes, the chain-smoking dudes from that other university were indulging in bottles of Gatorade between games. (It's unclear if Gatorade's physiological properties can outweigh the effects of a pack of cigarettes, but that seemed to be what they were trying to figure out.)
And it's not just basketball courts. You can find a bottle of Gatorade at any street shop (of which there are an infinite amount), and the sports drinks section at supermarkets are invariably huge. At least some of this boom is the result of Gatorade's 2007 partnership with the NBA, a move that was in no way haphazard.
While PepsiCo, which owns Gatorade, has already invested heavily in China, and while anecdotal evidence (such as Gatorade-lined basketball courts) suggests that PepsiCo products like "G" are already going strong here, the company recently announced plans to pour even more money into the Chinese market. From the Associated Press:
PepsiCo Inc. said Friday that it plans to invest an additional $2.5 billion in China in the next three years on new plants and research facilities as the food and beverage maker builds up its presence in the growing market.
The company made the announcement in a news release Friday from Shanghai, site of the Shanghai Expo, where PepsiCo is a sponsor of the USA Pavilion. That planned spending is in addition to the $1 billion investment it announced in 2008 and plans to complete this year….
Money from PepsiCo's additional investment in China will be used to open 10 to 12 new manufacturing plants, create a new research and development center, open five new farms for potatoes and oats and to build its brands.
The company will research and develop new products just for the Asian market. It already offers drinks inspired by traditional Chinese medicine and Lay's potato chips in flavors tailored just to the market, including cool cucumber and crispy prawn.*
"We are building expertise and infrastructure now so that we can have a strong, sustainable manufacturing and agricultural base to serve the diverse and growing needs of consumers across China," Chief Executive Indra Nooyi said.
* I can attest that these are as nasty as they sound.
On an editorial note (do I need to specify that on a blog?), it is impressive what PepsiCo has done in China. PepsiCo not only owns Gatorade, but also some other successful enterprises in China. As I mentioned earlier, KFC and Pizza Hut are both big-time chains in China, and each is owned by PepsiCo (or, more accurately, by Yum! Brands, which was spawned by PepsiCo to handle the company's restaurants).
It's not at all uncommon for kids in class, when game time rolls around, to blurt out "Team KFC!" when I ask what they want their team name to be. Moreover, each of the three Jinan branches of my school have KFCs within walking distance; one of the schools has two KFCs within walking distance. And Pizza Hut is nothing less than fine dining in Jinan. I have only eaten there once, but on that one occasion I dropped more than 100 yuan for dinner. Convert it back to dollars, and it's about the same that you'd pay back home. Anytime you convert something from yuan to dollars and it's the same as you'd pay back home, you know that you're spending a pretty penny for whatever it is that you happen to be buying. Tropicana juice and Doritos brand chips are also staples in Jinanese stores, and both of them are also owned by PepsiCo.
And tonight at least, PepsiCo also owns the sidelines.